Your holiday in San Vigilio di Marebbe in a UNESCO World Heritage Site
Healthy and genuine mountain life
Do you dream about a pleasant holiday in the heart of the Dolomites, mountains that were declared a UNESCO World Heritage Site, where you can be in harmony with nature, where you can be active and do sports, or just unwind and spend a weekend dedicated to relaxation and well-being?
San Vigilio di Marebbe, in Ladin Al Plan de Mareo, is the right place for you!
This lively mountain village in Trentino South Tyrol, nestling on the doorstep of the Fanes-Senes-Braies Nature Park and close to Plan de Corones the no. 1 ski area in South Tyrol, is a popular travel and holiday destination any time of the year. Not only its location but also its history and above all its Ladin culture are the things that make a holiday in the mountains even more interesting.
In the summer this location is a real Eldorado for trekking, excursions and mountain biking enthusiasts and provides breath-taking views with its picturesque mountain huts, its impressive rocky landscapes and a green wood full of shade.
In the winter this Ladin village located in the northernmost province of Italy, enchants its guests with a white landscape full of snow, perfectly prepared ski slopes and authentic mountain huts for skiers and trekking enthusiasts. We invite you to come to San Vigilio di Marebbe – in the Trentino Dolomites to enjoy winter excursions, ski tours, snowshoeing, cross-country skiing or just to enjoy skiing or snowboarding.
Taking part in our Experience.Nature programme that we hold in collaboration with Swarovski Optik, you can learn all about the real nature in the Dolomites with its most beautiful hidden places and a thousand secrets. Away from everyday chaos and immersed in the tranquillity of nature.
You will be thrilled!
Summer activities in the Dolomites in Val Badia
Trekking on the Trentino Dolomites in South Tyrol surrounded by nature for your psycho-physical well-being
During your summer holiday at the Hotel Teresa adventures and exploration are the main activities where you can learn all about the wonders of the Dolomites in Val Badia and the Fanes-Senes-Braies and Puez-Odle Nature Parks.
Our weekly Experience.Nature programme in collaboration with Swarovski Optik will give you the possibility to experience the real nature in the Dolomites by discovering even its smallest secrets, the most magical places, the most beautiful peaks in the Trentino - South Tyrol Dolomites and let yourself be overwhelmed by its energy.
Bring your spirit of adventure with you, we will take care of all the rest! We organise excursions and guided nature trekkings, sightings – wildlife watching, mountain bike tours, climbing and lots of other activities to learn all about the Ladin culture in our valley and the biodiversity of the Dolomites.
Our "Val dai Tamersc" that goes from San Vigilio to Pederü, provides different scenarios with extraordinary flora, fauna and geomorphology.
If you love thrills San Vigilio in Val Badia is also the place for you! There's the highest zip-line in Europe, the possibility to try paragliding and hang gliding, via ferratas on the most beautiful peaks with expert guides and you can also tackle the rapids on the river with rafting, dive into natural waterfalls with canyoning and try your hand at many other adventurous and fun activities!
Come and discover how much adrenaline-fueled beauty the splendid Valle di Braies has to offer (Valley of the Fanes Senes Braies Nature Park)
Mountaineering – climbing – free climbing
Guided excursions and trekking in the Dolomites of various levels of difficulty
Mountain biking, downhill, free riding
Road cycling
Zip-line
Equitation
Paragliding
Canyoning
Rafting
Archery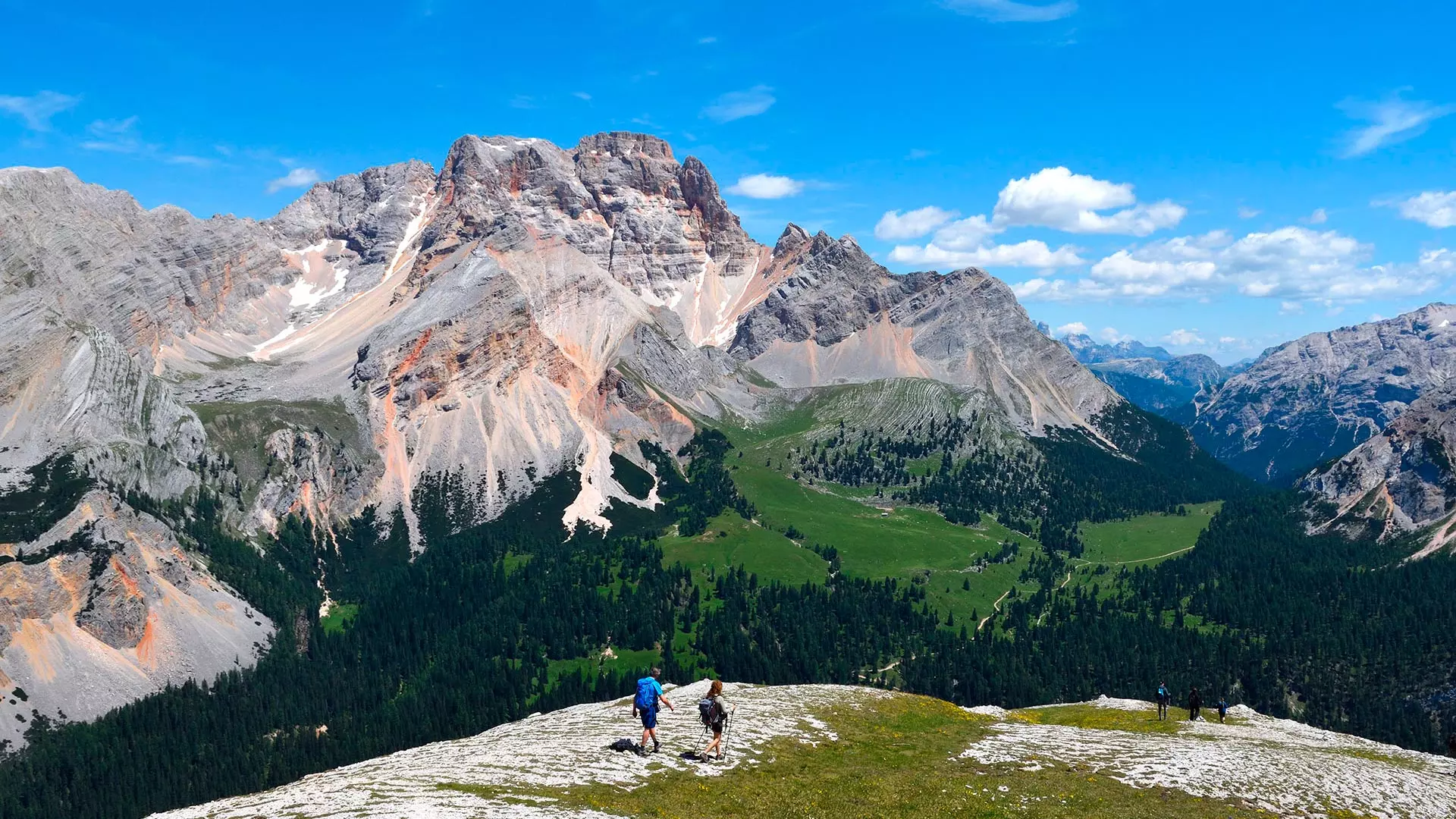 Skiing in Plan de Corones: a fun and exciting winter holiday
Winter activities and sports in the Dolomites
Come and enjoy a winter holiday in our hotel and you can be sure you will not be bored! If you have always dreamed of skiing in Plan de Corones the number 1 ski area in Trentino - South Tyrol, snowshoeing on immaculate and fairy-tale landscapes, reaching the majestic peaks of the Dolomites by alpine skiing or sledging along the snowy slopes surrounding San Vigilio di Marebbe, then a stay at the Hotel Teresa is the holiday for you. In addition our weekly Experience.Nature programme will give you the chance to learn all about the local wildlife and lots of secrets that nature also provides in the winter.
Here are some of the activities you can try on your winter holiday in the Dolomites:
Alpine skiing in the Dolomites Nature Parks
Snowshoeing in the Fanes-Senes-Braies Nature Park
Wildlife watching
Cross-country skiing up to Pederü or Passo delle Erbe
Skiing in Plan de Corones
Ice climbing
Sledging
Ice skating
Paragliding
Equitation