A unique atmosphere in a welcoming Hotel in Plan de Corones
"We learnt from our grandparents that wood is warmth"
In a Hotel in Plan de Corones in wonderful South Tyrol people expect characteristic environments and welcoming atmospheres. This is exactly what you can find at the Hotel Teresa, and much more.
Located in the splendid San Vigilio di Marebbe basin at the foot of the famous Plan de Corones, our Hotel is surrounded by nature and integrates well harmoniously with it thanks to the use of stone and wood. The Ladin culture in this part of South Tyrol manifests itself in all its typicality in the Hotel by pervading the flavours of our cuisine and the refined taste of the furnishings. You can enjoy the same comfort and warmth you find at home in the rooms and communal spaces in the Hotel while on holiday.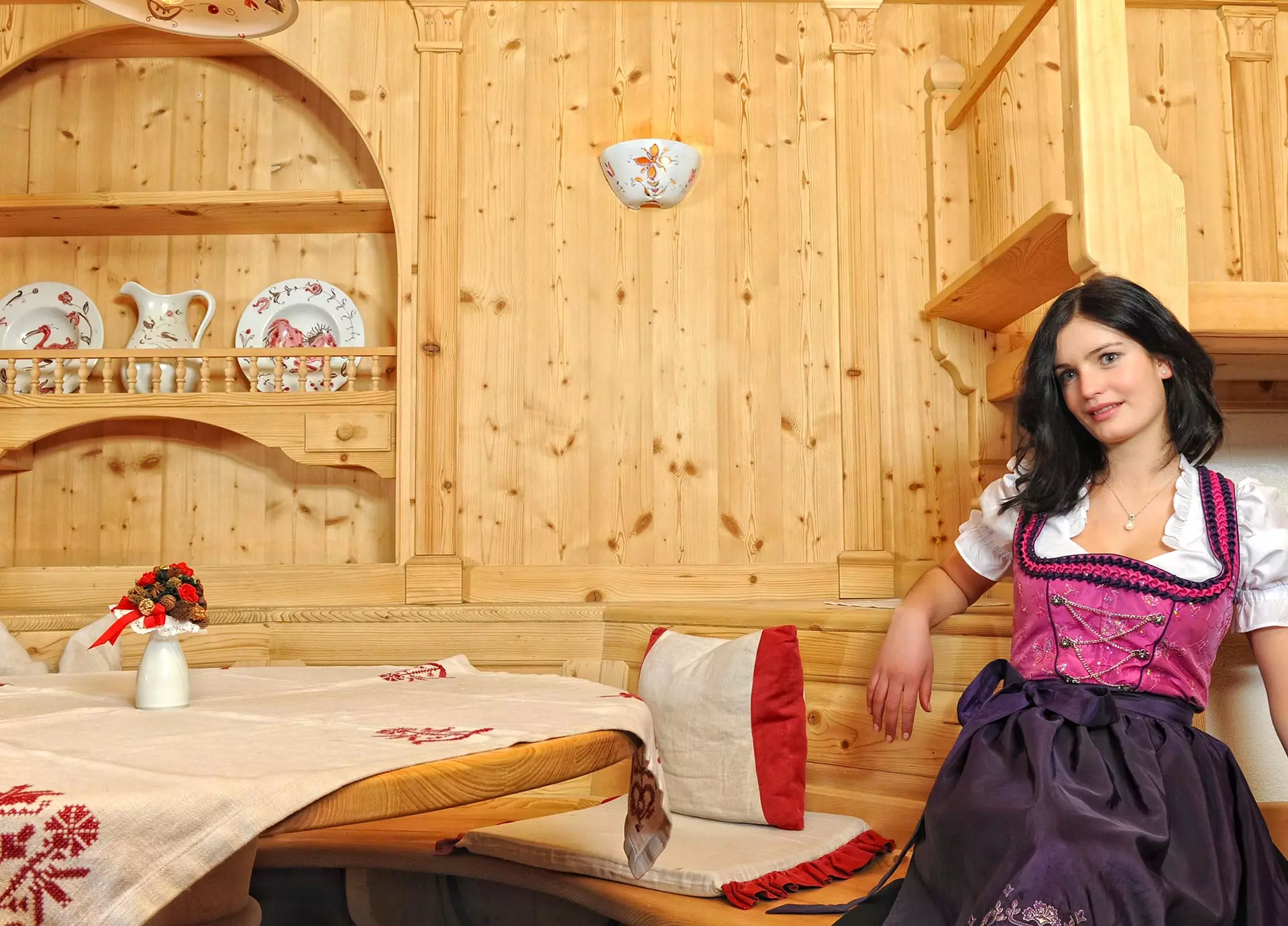 The lounge
Our lounge completely in wood with tables, sofas and comfortable chairs invites you to relax and reflect on the fantastic day spent in the mountains of the Dolomites. Enjoy a herbal tea, look back on your photos, read a book and for those that must work… in our comfortable lounge you will find the right spot.
The "Ice Cream & Pastry Hotel Teresa"
Enjoy the sun on the terrace or keep warm in our typical bar, the perfect place to enjoy delicious apple strudel and other homemade cakes and desserts. In addition we prepare delicious high quality ice cream "Gelato d'Alta Quota" with milk from our local dairy. There is also a selection of mountain cocktails, many carefully selected biodynamic and organic wines, grappas, fine spirits, homemade fruit juices and much, much more.
The "Kneipp Parc Hotel Teresa" garden
The scent of the forest, the gentle murmur of the stream, the feel of alpine grass underfoot… our Kneipp Parc is an ideal site for practicing yoga and body flow.
Our garden is located 1 km from the hotel and can be easily reached with an easy 20 minute walk through the woods. There is a small lake, a natural Kneipp park and deckchairs to enjoy the warm rays of the sun.
In the garden you can enjoy pure relaxation and peace given that it is surrounded by a large meadow, a stream and a wood. From the garden there is a spectacular view over the mountains in the Dolomites.